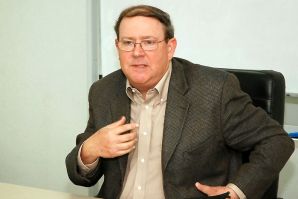 May 31, 2011 Mr. Douglas Nord, professor of political science, director of Center for International Studies of Western Washington University, visited VSUES.
Partnership relations between VSUES and Western Washington University were established one year ago when Mr. Nord visited VSUES for the first time ever.
"I have been working in the field of International exchange more than 25 years. As for cooperation with Russian Federation, I always try to find among Russian Universities modern, innovative and dynamic university where our professors shall esteem a favour to teach. That is why VSUES attracted my attention", said Mr. Nord.
In the course of negotiations in January 2011 VSUES and Western Washington University signed Memorandum of Understanding on academic cooperation.
During the meeting with professor Irina Chernaya, VSUES vice-president for academic affairs and Mrs. Natalia Zhukova, deputy head of VSUES International relations department, they discussed possibilities of coming of VSUES faculty to Bellingham next academic year for participitation in Mr. Nord's grant project.
He also mentioned the fact that Western Washington University as well as VSUES is also social oriented:
"We train the biggest number of volunteers, leaders of non-profit enterprises and U.S. Government allocates funds for these programs. We are ready to share our experience with VSUES".
Within the framework of the grant project Mr. Nord also met with VSUES staff members who have an interest in business, economics, tourism and environmental issues teaching and research areas and who are knowledgeable of the upcoming APEC conference in Vladivostok in order to discuss details of this project realization.