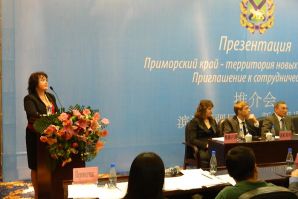 XXII China Harbin Fair for Trade and Economic Cooperation (China, Harbin) is one of the largest international fairs in China authorized by China government, was held on June 15th in Harbin, capital of Heilongjiang province. It has been successfully held for 15 years ever since first event on 1990.The Harbin Fair officially started at the International Exhibition Centre of Harbin, Heilongjiang, China on June 14. Indoor and outdoor exhibition area of the fair covers 86,000 square meters and provides 3,000 international standard booths.
VSUES vice-president for academic affairs Irina P. Chernaya, deputy head of International Relations Department Wang Bing and specialist of Center for Strategic Partnership Andrey M. Karavaev took part in this big event. "We received invitation to take part in Harbin fair for Tade and Economic Cooperation from Suifenhe Mayor's Office, our strategic partner. We has been successfully cooperating for a long period of time and we are planning to conduct several joint educational projects", said professor Irina Chernaya.
Chinese employers, entrepreneurs and school leavers had the possibility to get better acquainted with VSUES. Under the frame of presentation of investment projects "Primorsky region – the territory of new opportunities", professor Irina Chernaya and Mr. Wang told about prospects of VSUES development about the benefits of studying at VSUES. During the Fair new prospects for further VSUES international cooperation development were outlined.