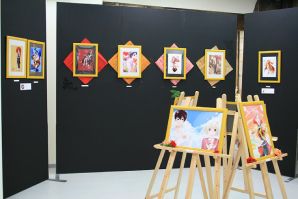 July 18, 2011, Japanese delegation from Japan Animation & Manga college visited VSUES.
JAPAN Animation and Manga College is an institution that trains many young Japanese people to become professionals in fields of animation, illustration, character design, game design and manga production.
Mr. Tomoaki Kojima, principal of Japan Animation & Manga college, led the Japanese side in negotiations with VSUES first vice-president Galina I. Maltceva. This collaboration meeting was also attended by the following parties: Mr. Toshiharu Koike, Manga – create section manager; Mrs. Tamura Aika, representative from International Relations Department of Niigata prefecture; teachers from Japan Animation & Manga college; Natalia V. Zhukova, deputy head of VSUES International Relations Department; Vladimir I. Yanfa, president of Oriental Arts Studying Center. Parties discussed issues of possible cooperation. During the meeting Galina I. Maltceva underlined that VSUES is looking forward to expand cooperation with Japanese Institutions and VSUES is one of the leading University in Russian Far East, which is concerned about Japanese culture promotion in Vladivostok city. All significant events take place at VSUES, as follows: Japanese national costume festival, maser classes on calligraphy, Japanese painting exhibition. It is also planned to open Japanese laboratory in VSUES. Opening of Japanese laboratory, made in delicate Japanese style, will guide our students to better explore traditions of Japan and Japanese language. It is also good opportunity for Vladivostok citizens to touch Japanese ancient culture, said Galina I. Maltceva.
It was agreed that teachers from Japan Animation & Manga college will give master classes for VSUES students. Delegation also visited VSUES department of design and School of foreign languages.