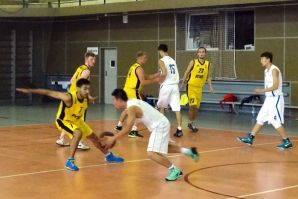 VSUES basketball team and a team from Changchun school #6 (China) took part in a basketball tournament within the framework of cultural and sports exchange. During the tournament the participants revealed excellent results.
The coach of VSUES basketball team Igor Makarov said that such cultural and sports exchange was very useful for our sportsman:
- This is not just about new skills and experience. The main idea of this event was to improve sports friendship with our neighbors. Chinese guys are skilled sportsmen. Games with them were very exciting as they showed us their sports talents. We plan to hold more sports events with teams of different counties in the future.
Our guest, the coach of Changchun high school told us that his team visited Russia to participate in a sports tournament for the first time. They liked Vladivostok a lot and they had good impressions from the trip.
-The guys are in a very good mood. Your students showed us their skills and hospitality. So, we hope that we will have an opportunity to visit your country for another tournament and, of course, we are looking forward to receiving your team in our country on a return visit.
Such sports meetings are not uncommon for VSUES sportsmen. In autumn our volleyball team will have a game with a team of Shenyang University of Chemical Technology. We wish our sportsman a success!