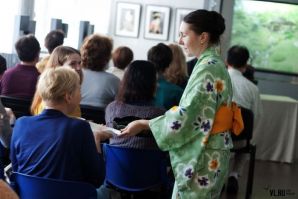 A master class of Japanese tea ceremony was held in the museum and exhibition complex of VSUES.
In the beginning of the class the audience was greeted by the vice-consul of the Consulate general of Japan in Vladivostok and by the director of the museum and exhibition complex Nadezhda Sukhareva.
After an informative lecture the guests were invited to participate in the traditional Japanese tea ceremony - to watch the master at work and to taste an unusual Japanese powder tea.
The tea ceremony in the Japanese culture is one of the ways for meditation. While making tea the master does many things with anagoge. Every movement is a part of signing on meditation. The master is passing an atmosphere of calmness and harmony to the guests. That is why it is not recommended to chat at the tea ceremony as it can ruin general meditative state of mind.
According to tradition the guests were offered sweets at first and after that were given a cup of tea each. The master used special powder tea for the ceremony. Such tea making allows preserve all tea minerals.
Nadezhda Sukhareva noted that the museum complex of VSUES will continue to organize meetings of Japanese culture fans in future.