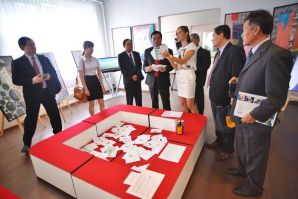 On July, 15 a delegation from the Ministry of education and sports of the Lao People's Democratic Republic came to Vladivostok State University of Economics and Service. Within the framework of two-sided cooperation between our countries VSUES will accept first students from Laos to receive state-subsidized education already in September of this year.
The visit of the delegation of Laos in Vladivostok started from acquaintance with the campus of VSUES. The rectors were interested to know about conditions of life and study for their students. Members of the delegation highly appreciated the university campus for its convenience and infrastructure.
The guests also visited the sports complex "Champion", hotel complex "Avanta", student dormitory, library, Museum and exhibition complex, theater "Underground" and the School of foreign languages. It is considered in Laos that the Russian language is difficult to study. That is why members of the delegation were interested to know how quickly foreign students could learn the language at a level enough to receive higher education. The guests from Laos were invited to participate in a Russian language class for foreigners to make sure that students could learn to speak Russian with confidence within a few months.
Students from Laos are interested to study in Russia and are ready to come to Vladivostok. The first six students will begin their studies in VSUES in September of this year.