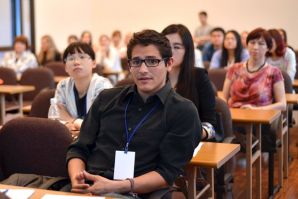 The III International Youth Festival of the twin cities organized by the Vladivostok administration was held in our city from the 25 to 29 June 2014. Young people from China, South Korea, Japan, USA and Vietnam participated in the festival.
This year festival was aimed to strengthen the relationship between the cities of Asia-Pacific region, to provide young people from different countries more opportunities for communication and exchange of opinion, to deepen mutual understanding among peers and to expand their horizon.
This is the third time during this year that VSUES hosts the festival of twin cities. In 2012 participants also discussed issues related to design on the basis of VSUES. In 2013 there were two grounds: "Volunteer movement in Asia Pacific Region" and "Costume Design: traditions and modern technology."
Participants of the festival - students from China, South Korea and Russia (VSUES and FEFU) made ​​presentations on the theme "Youth Design".
The practical part - master-class "T-shirt-style» - took place in the laboratories of the department of VSUES service technologies. Twenty two participants from Vietnam, China, Korea, USA and Japan implemented their creative ideas on t-shirts together with Russian students.
The participants were offered sketch design options for T-shirts according to two concepts: Olympic sports theme and a concept based on the phrase "I love Vladivostok". International status of the event required use of color and iconic symbols of the participating countries.
Guests also expressed their keen interest to the topic «I love Vladivostok». Their creative solutions externalized themselves in various techniques using stencils, airbrush, transfer printing and hand painting with acrylic. Students of the group DK-09-01 Daria Baskova and Diana Kutyavina assisted everyone to get practical skills with an airbrush. Bewitching coloring technique attracted students with a wide range of painterly effects.
Creative enthusiasm of the participants was not exhausted while performing this creative task. Talented young people continued the process of self-expression in designing packs for their author's products. Thus, the students were able to try themselves at all stages of project activities in the field of design.
Cohesive and talented participants of the master class shared their experience with great interest, showed each other their works and took pictures. The created masterpieces were taken with the participants to put them on during the follow-up activities of the Youth International Festival of the twin cities of Vladivostok in 2014.