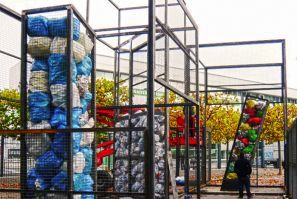 From the 12th up to 20th of September, 2014 VSUES will become a platform for the international project "Modern Art in the city's architecture." The project is coordinated with "Alliance Francaise-Vladivostok" and the Museum and Exhibition Complex of VSUES.
The main idea of the project is to create a binomial from French experts - an architect and artist who will spend a week-long program of master classes. The general theme of the master classes is "Integration of contemporary art in the urban landscape." According to the authors' idea, the best projects of the week will be implemented into the urban environment.
The well-known Frenchmen - architect Vincent Saulier and artist Philippe Jouillat were invited as lecturers and master-class teachers.
This project is designed for students of art and design faculty of VSUES. Final projects of the students will be presented in different forms - photos, videos, models and other practical-oriented results. All the works will be evaluated by the French working group on the last day of work.
Information:
Vincent Saulier is an architect. He graduated from the School of Architecture in Paris, Belleville in 2002 under the leadership of Henri Sirian. In 2007 he defended his thesis under the supervision of Alberto Ferlanga. In 2005 he opened his own architectural office.
Vincent Saulier's field of activity is related to the problem of social housing (reconstruction requiring large investments, construction of new housing, urbanization). Saulier is involved in various projects of contemporary artists in theater and dance productions, solo exhibitions (sculpture). He also works as a teacher, both in France and abroad.