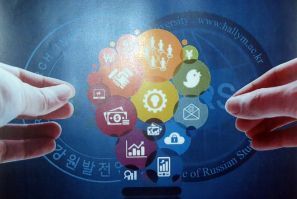 Associate Professor of International Business and Finance Department, Ph.D. (political sciences) Roman Grivanov took part in HIRS Annual International Forum – 2014.
Scolars from Russia, Republic of Korea, China and Japan discussed issues related to social and economic development of the Russian Far East and its integration into Northeast Asia. Roman Grivanov's report "Russian Strategy for the Development of the Russian Far East Region and Cooperation with Northeast Asian Countries" was based on the results of his research conducted jointly with Professor of the Department of Economics and Management of VSUES, Doctor of Economic Sciences, Alexander Latkin.
The forum was held in Hallim University, which became VSUES partner a year ago. In April 2014 and in May 2014, the students of VSUES and the students of Hallim University took part in two international video-conferences: "Prospects of Tourism and Hospitality Industry Development: A Modern Model "East&West" and "Modern Problems of Interaction of the Asia Pacific region Countries in Tourism".
This academic year saw the beginning of exchange programs between the two partner universities.