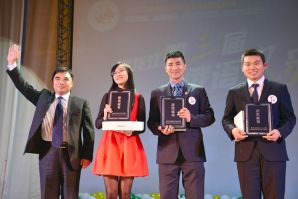 The final of the Heilongjiang competition in Russian language took place on the territory of Russia for the first time. More than 1,200 fans of the Russian language from China participated in it. Preliminary stages of the competition were held in seven cities: Harbin, Qiqihar, Mudanjiang, Jiamusi, Daqing, Suihua and Heihe. 17 persons were chosen for the final.
Before the beginning of the final the editor of the North-East Internet site Liu Gaming said: "We want to thank VSUES for giving the opportunity to conduct the final part of the competition. VSUES is a prestigious and well-known University, and this fact adds prestige to our competition. We want to show the Russians the image of a modern Chinese youth".
The name of the third Heilongjiang contest is "Charming language and the friendship bridge. Show imagination and look into the future". Our finalists are students of high schools, university students, young professionals.All participants share their love for the Russian language and for Russia. All they visited our country, some of them have Russian roots and the youngest participant lives in Khabarovsk. For several years the girl learned Russian language, and now she speaks Russian as a native speaker.
The jury consisted of Chinese colleagues and of members of the Department of Russian language (VSUES). The participants had to make a story on the following theme «My Chinese dream", then they had to perform different tasks and improvisations aimed to show their talent. The projects were evaluated according to different criteria - the level of language, the content of the speech, talented acting and others. It became clear that the dreams of our neighbors are the same as of the most of us: to live in a prosperous country where people do not know sorrows and troubles, to respect and love each other. The participants demonstrated their love for Russia and the desire to live and develop their careers in a close relationship with our country.