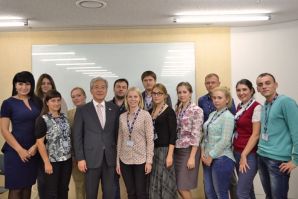 Seventeen VSUES professors and researchers participated in the overseas training "Modern educational technologies in educational process", organized by Solbridge International Business School  (Wusong University, Republic of Korea).
Director of School of Management, Roman Lugovoy said that VSUES academic staff learned about the modern Korean system of education and the IT trends in teaching and educational process in Solbrige.
Vice-president for Strategic Development and Innovation, Doctor of Economic Sciences Vladimir Kryukov also commented the visit: "International business school is located in the scientific capital of the Republic of Korea (so called Asian Silicon Valley) - the city of Daejeon. The Republic of Korea is one of the leading countries in IT technologies for education. VSUES focuses on E-learning environment (Moodle) and practice-oriented training. Solbridge also pays a great attention to Moodle and to practice-oriented approach in education. Besides, Solbridge uses the Flipped Class (inverted training)."
Solbridge International Business School was established in 2007 as an independent unit of Wusong University, the goal of which was to become one of the leading international business schools in Asia. In May 2014, the business school received the prestigious AACSB (Association for advance collegiate schools of accreditation business) accreditation. Only 5% of the best business schools in the world have this global benchmark of quality in business education.