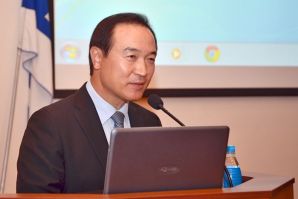 Famous politician and public figure from the Republic of Korea - Yim Tae-hee visited VSUES. In 2009-2010, he was appointed as Minister of Employment and Labour. In 2010-2011, he became the Chief of Staff to President Lee Myung-bak.
The visit of the politician was organized by the representative office of Asiana Airlines in Vladivostok and by the VSUES International Relations Department. Yim Tae-hee met with the University administration staff and gave a lecture on prospects for developing relations between the major Asian-Pacific countries and the Russian Far East.
Mr. Tae-hee:
My first acquaintance with Russian culture began with the Russian poet Alexander Pushkin and his famous poem "If life fools you..."
If we talk about the history of Russian-Korean relations, they have been developing for more than 150 years. For many Koreans Russia seemed to be a distant country, but in recent years our partnership has been actively developing
The greatest attention Mr. Tae-hee paid to the situation on the Korean peninsula, to prospects for Korea unification and to security issues in Northeast Asia.
Russian and international students from the USA, Vietnam and South Korea attended the lecture and asked the speaker different questions. Future specialists in international relations were interested in his opinion about Russia\\'s role in the North Korea nuclear crisis settlement and future architecture in the Asian Pacific Region.