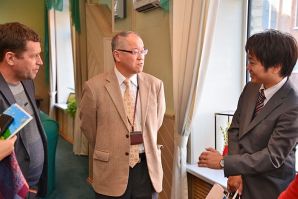 The President of VSUES Gennady Lazarev met Kasai Tatsuhiko, the new Consul General of Japan in Vladivostok, who started in his duties in October 2014.

Gennady Lazarev said that VSUES has cultural, educational and sports partnerships with educational institutions in Japan – Tottori University of Environmental Studies, Niigata University of International Culture and Information, Toyama University of International Studies, Toyama government organizations etc.

Mr. Kasai Tatsuhiko noted that the Consulate is planning to initiate and organize various events and some of them can be held in VSUES.

Gennady Lazarev invited Mr. Kasai Tatsuhiko to give a lecture or even a series of lectures to VSUES students, as well as to take part in the Pacific Style Fashion Week-2015 in Vladivostok which will be held in VSUES from 18 to 25 of April, 2015.

After the formal meeting, Mr. Kasai Tatsuhiko was invited on a tour around the campus of VSUES.