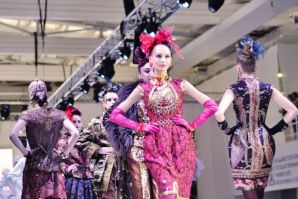 VSUES received a special diploma of National Award for an original idea of promoting the Russian Far East at international level through the project "Pacific Style Fashion Week".

498 projects from 72 regions of the country took part in Russian Event Awards competition in 2014. As a result, 111 projects were chosen to participate in the final contest in Kirov.

The project of VSUES - " Pacific Style Fashion Week " in Vladivostok was presented by Larisa Prokhorova, the head of the Department of Information and Advertising:
- VSUES is the only University in Siberia and the Russian Far East which trains specialists in fashion industry, and the "Pacific Style Fashion Week" gives an opportunity for young talents to present their projects at international level.

About three thousand people visited Fashion Week-2013, this year the event welcomed more than five thousand guests. The organizers say there will be at least 7 thousand of fashion and style fans in Fashion Week-2015.

Sergey Pozdnyakov, the Chairman of the Expert Council of the Award, the member of the Public Council of Federal Tourism Agency, Vice-President of the Association of Domestic Tourism:
- Rewarding VSUES, we celebrate one of the most successful projects in the field of event tourism, we hope for its further promotion, as well as for the growing interest among authorities and public to the event.