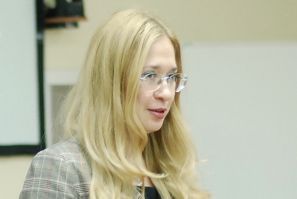 Olga Us will take part in a three-month Fulbright program for the International departments staff.

Annually, the Fulbright program provides competitive grants for eight Russian specialists from the University International Departments. Olga Us is one of those candidates who received this grant in 2014, and she is the only representative from the Russian Far East.

The purpose of the Fulbright program for the staff of the international departments (Russia International Education Administrators Program, RIEA) is the professional improvement of workers' skills in Russian universities who work with foreign students and teachers, including faculty and students from the United States. According to this program, Russian members of the International departments will obtain knowledge in the field of academic exchange, medical insurance, security requirements, intercultural communication and language practice. The exchange of professional experience is an important component of the program.

Olga Us has been working in VSUES International relations department for more than 13 years and has an extensive experience working with foreign students and faculty.

The program offers an intensive three-month training period in the United States. It has several stages:

Academic Component (Indiana University, Bloomington)

AIEA Conference Component

IIE Seminar and Campus Visit Component

Networking Week

Training

New York RIEA Program Debrief