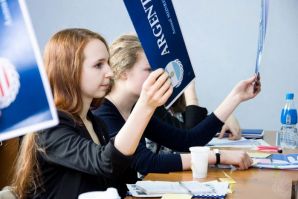 About 50 participants from different cities of the Russian Far East attended the annual conference «Model United Nations of the Far East (MUNRFE) 2014".
The thirteenth consecutive year, MUNRFE organizes the conference, enabling young leaders to offer new solutions for important global problems and to acquire professional competence of a diplomat. This year, the delegates worked on modeling of the United Nations (UN) General Assembly (in Russian), UN Security Council, UN Food and Agriculture Organization and the World.
The decisions taken at the conference were related to the UN reforming, child labor, the situation in Iraq, the imposition of economic sanctions, besides; several projects for developing countries were accepted.
Within the framework of the conference two workshops with the participation of invited experts were carried out: Senior audit –consultant of JSC "PricewaterhouseCoopers Audit", Vladislav Sklyarov gave a lecture about the current economic situation in Russia, and the Professor of VSUES Institute of Law, Alexander Alekseenko, delivered a lecture on international law.