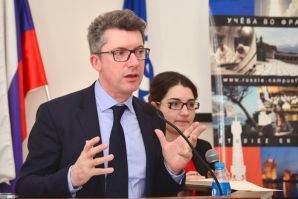 On 24 February at the hall of Academic Senate of VSUES, the Professor of Paris-Sorbonne university and Higher School of Political Studies Jean-Casien Belje presented a lecture for faculty and students on the topic: "Are we morally responsible for climate changes to our descendants".
Jean-Casien Bilje is one of the French specialists on the issues of climate justice and environmental ethics. From 21 to 28 of February 2015, by invitation of French Embassy and French Institute in Russia Professor Bilje gives a series of conferences in several cities of Russia, as a part of preparation for the 21st conference regarding climate changes held in Paris which is called "COP 21".
Jean Belje talked about things, that are well known and clear to us, such as our attitude to the nearest and dearest as like we treat ourselves, the role of developed and developing countries in the global community and their impact on world politics and economy, rational use of natural resources and the dangers of the greenhouse effect leading to global warming. He associated ethical relations in society with their influence on the climate on Earth and potential danger of its changing for our descendants, if they won't be able to come to agreement.
A lot of specialists work in this sphere in France nowadays. Summit for solving the problems, connected with saving comfortable living conditions on the planet for our children, grandchildren and further generations will be held in Paris in December of 2015.
Professor turned out to be fond of Russian language and, though his lecture was translated, he started and finished his conversation in good Russian. Mr. Bilje expressed his love to Russia, and, in particular, to the works of Bulat Okudzhava.


After answering the questions from the audience, Professor finished his speech with the words from the famous bard's song:

- "While the Earth is still moving", we can try to make it even better.

A 4th year student of VSUES, studying Linguistics BA, Anna Medvedeva, will become an interpreter of French language. She noted the relevance of the topic of the lecture and its value, especially for students studying French language.
-We have never attended the lecture held in such a way. it was interesting to hear French language, the vocabulary on a specific topic, and to see the work of a simultaneous interpreter, who is practically the same age as we are.


At the end of the meeting the head of the International Academic Mobility Office of International and Cultural Affairs Department of VSUES Aleksandra Piginesheva thanked the representatives of public organization Alliance Francaise in Vladivostok for assistance in holding the lecture for the students of VSUES of different special fields such as ecologists, international relations and linguistics. She also warmly thanked the French guest and on behalf of the University community presented him a souvenir.