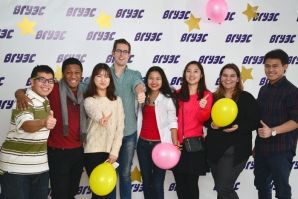 More than 600 foreign students from former Soviet republics and such foreign countries as Armenia, Georgia, Moldova, China, Viet Nam, Republic of Korea, USA and Japan. The last year a new preparatory course was started in November, which allowed an academic geography to get even wider and to enroll new students from Laos, Bulgaria and Democratic People's Republic of Korea. All students have already become accustomed to a new place and now share their impressions.
Vilavain Tou, a student from Laos is studying "Tourism" in terms of free quota established by the Government of the Russian Federation:
- I used to study Russian language at the preparatory course in PFUR in Moscow. Then I got a possibility for free studying in VSUES and now I\\'m here. I like Vladivostok; here are a lot of beautiful and picturesque places.
Kio Paisi came to VSUES from the University of Hawaii at Manoa, USA:
- I was born in Cambodia and now I'm studying in Hawaii. It's very cold in Vladivostok, but nevertheless I like it very much. I haven\\'t decided yet if I want to stay in Russia or not, but I'd also like to visit Moscow and St. Petersburg.
A student from Texas, Peabody Ryan is studying international relations at George Washington University and like other foreign students he arrived to Vladivostok to study Russian language:
- I am very interested in relations between Russia and the USA, that's why I've been already studying Russian language for two years. I\\'m also interested in Russian history and culture.
A student from Chicago, Karim Kamal, in addition to the main course of Russian language, has chosen the program called "Russian Far East", that is taught in English:
- I want to learn more about the Indigenous Minorities of Russia, and I believe that Vladivostok is the best place for this research. I really enjoy the Russian Far East course. In the United States it is considered to be a benefit to study in Russia, especially if you are majoring in humanities.
A student from Hawaii, Matsuda Shane (Russian name is Yasha) has been studying Russian language for three years in his country and he is planning to engage his life with politics in future:
- I have chosen VSUES, because I heard that here are very good language programs. In addition, Vladivostok is not very far from Hawaii. I'd like to work in public administration in department of foreign affairs in future, that's why the knowledge of Russian language is necessary for me. Although Russian language is very difficult, I do really like it. I hope finally I\\'ll learn how to speak it. First time it was very difficult for me to understand what other people are saying, but a little bit after I began to understand Russian language better.
Nicely Maika, a student from the United States, has also come from the University of Hawaii:
- Vladivostok is a very interesting city. I like the cuisine; people here are very nice and pleasant. I like studying in VSUES. Such difficult language as Russian is taught here in a very clear and interesting way. I live in the dormitory and my roommate is a girl from Cambodia. Russian students help us to communicate with each other and correct our mistakes.
Phe Sanghai (Russian name is Alina), has come from the Republic of Korea on an exchange program from the University Sangmyung:
- I like Russian culture, Russian ballet and I'm very interested in fashion. I really like the sport center in the university. It\\'s big and there are many sections such as swimming, Pilates and yoga. I love sport and I enjoy going there. It is convenient that all buildings on campus are connected with each other by walkways and there is no need to go outside. In July I am going to Khabarovsk, lake Baikal, Moscow and St. Petersburg.
Anastasov Spas has come from Pazardzhik and he is the only student in Primorye who arrived from the Republic of Bulgaria. Spas studied foreign languages in his country in Plovdiv University "Paisii Hilendarski" which is the third-largest University in Bulgaria.
- Russia is a big country with a huge amount of resources and opportunities. I think that VSUES is one of the best universities for studying. I really like people here: they all are friendly and always smiling. Russian language doesn't have much different from Bulgarian and it is easy to understand for me. That's why I get on well with my studies and homework.