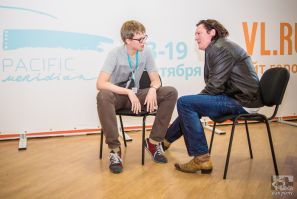 Kirill Dishlovoy is a 2nd year student of School of Television who became one of the finalists of a contest of young screenwriters in Nashville Film Festival, held in the USA.
After the first year of studying Kirill used to work as a part of organizing committee of the XII Pacific Meridian international film festival and published several interviews with famous screenwriters. In November of 2014 Kirill and his classmates produced a short documentary about Vladivostok, which premiere was held not just in the University, but also on one of the federal TV channels.
When was a 2nd year student Kirill took a part in a grand program "Between the lines" of the University of Iowa. According to the rules of the program Kirill did different literary tasks and one of it he changed into a short story with a title "Club of pride". In the Nashville Film Festival "Club of pride" became one of the finalists in the nomination "young screenwriters". The winner will be announced in April during the Award Ceremony of the Festival.
As Kirill said in his interview, such contests are a great possibility for young people to assert themselves. The "Club of Pride" is an unfeigned story, which is very close to the author.