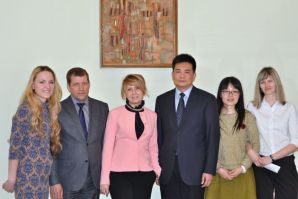 The delegation from Mudanjiang Normal University visited VSUES on the 1st of April. The Chinese delegation consisted of Zeng Tao, the Head of the international affairs department, and Lian Chunyu, the specialist of the department of Russian language in Mudanjiang Normal University. The delegation of the Chinese university met with Tatyana V. Terenteva, the vice-president of VSUES for scientific and international affairs, with Petr L. Semin, the Head of International and Cultural Affairs Department and Yuliya S. Kravchenko, the Head of International Educational Programs Office.
During the meeting Mr. Zeng Tao presented such Government scholarship programs as the scholarship program of Ministry of Education of China, the scholarship program of Ministry of Education of Mudanjiang province and the grant programs of Mudanjiang Normal University. Such scholarship programs are the great opportunity for students of VSUES and its college to enroll the Chinese university on the programs of Bachelor's degree, Master's degree and as postgraduates on the terms of free education or with even a monthly paid scholarship. Also the delegation visited Pacific International Hotel Management School where they had a tour through all training and lecture rooms.
VSUES has been cooperated with Mudanjiang Normal University since 2010. Two students from the Chinese university are studying on the exchange program in the moment. VSUES students also have an opportunity to take part in the exchange program and to study Chinese language in the MNU for 1-2 semesters.
Every year MNU offers several places to enroll the university on the grant program. Students are allowed to choose any special field they like. In case if Master's degree or postgraduate enrollee doesn't speak Chinese he is offered to have a preparatory year for studying it.