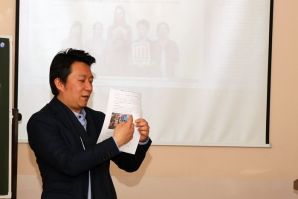 The lecture about innovations in costume design was held in VSUES within Pacific Style Week 2015. The Vice Principal of the New World Institute of Total Fashion of Niigata Ichiro Tsuchida, being the member of the jury while the contest of young designers "Pygmalion", told about the latest fashion trends in Japan, international exchange of ideas and the ways, how to promote one's collection.
Ichiro Tsuchida visited VSUES for the 4th time already. "The city is very close to me, both: geographically and mentally", - he says.
In his presentation Ichiro Tsuchida showed the clothes from the student's collection which are well sold in the best Trade Point Network in Japan. Every year students of Niigata New World Institute of Total Fashion have their internship in France and Italy, which allows them to understand the latest European trends and successfully use this experience in creating their own collections.
He also told about Harazuku fashion festival which is getting popular in Russia and Europe. The big part of the lecture was devoted to promotion of designer's works through the social networking such as Instagram, YouTube and Facebook. He offered the students to add him as a friend on Facebook and promised to make reposts of their most interesting posts.