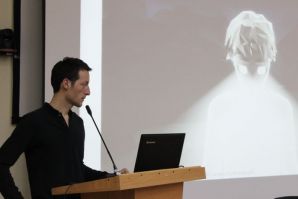 Lecture of the famous French artist Laurent Pernot took place in VSUES. This event got possible because of the cooperation between International and Culture Affairs Department of VSUES and French culture center "Alliance Française de Vladivostok" with the support of Embassy of France in Russia.
The head of "Alliance Française de Vladivostok" Elena Nikitina presented the artist and said that before Vladivostok he had already visited Ekaterinburg, Samara, and Saratov and was planning to visit Novosibirsk. In Autumn Laurent Pernot will take part in the Biennial of Contemporary Art in Moscow.
Laurent Pernot is famous in France as a whale at installation and photo and video projects. In his childhood, he did not even think about the career of an artist, but being born in a small French village, which is a fantastically picturesque place he got attracted with the foreign countries and travelling, especially when he watched at planes going over his place and TV programs, telling about the world. So he moved to Paris, where was able to graduate the faculty of photo and multimedia of the Paris VIII University and National School of contemporary art Le Fresnoy. Laurent Pernot is the laureate of SAM Awards in the field of contemporary art.
In his lecture "The basic traditions of French contemporary art", he told how he gets ideas for the installations. He showed the examples of installations for which he was inspired by the philosophy of antiquity, especially Plato, who said that it is not the sun brightening the Earth but the light of our eyes. The artist is interested in the theme of philosophy and religion because as he said people have many questions in this field but are not always able to find answers.
The main part of the lecture was addicted to the artist by whom Laurent is inspiring, such as Bernard Faucon, Claude Leveque, Laura Henno and others.
The students from the faculty of the Culture Studies said that the lecture turned out to be very interesting. Students liked the way in which the artist expressed the world problems in his photos and totally agreed with his opinion that a person is a whole universe.