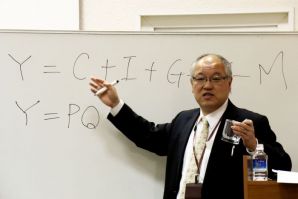 Consul General of Japan Kasai Tatsuhiko gave a lecture to students of VSUES. The last year he visited VSUES for the first time to meet with the President of the university and promised to give a lecture for students while the next visit.
To listen to the lecture "GDP and our life" were invited students and faculty of the department of international business and finance. The special field of Kasai Tatsuhiko is Economics. In 1978, he started to work in the Ministry of Foreign Affairs of Japan and since the last year, he became Consul General of Japan in Vladivostok.
Mr. Kasai Tatsuhiko is very good in Russian language that is why there was now problems with communication and understanding. The main accent was on possessing of Russian Far East and on the role of GDP in the life of the citizens. Consul General did not just speak about his experience, but also asked to express one's opinion about the factors, which influence on people's lives.
Mr. Kasai Tatsuhiko: "I always take part in meetings and events, where politicians and scientists discuss the ways to enhance the efficiency of the Russian Far East economics, especially in Primorsky region. That is wonderful that students and young people discuss on this theme and I was very interested in listening to their opinions on the topic".