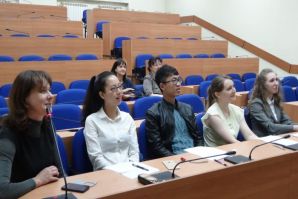 The Department of intercultural communications and translation held a video conference between the students of VSUES and Hallym University. The theme of the conference this year was the problem of the development of tourism industry and modern culture in the countries of Asian-Pacific region. The working language of the conference was English as it had being the previous year. The students under the guidance of the faculty of the Department prepared and presented such report as "Collectivistic and individualistic model of the world at an early stage of globalization on the example of Republic of Korea" and "Bike as a part of the development of a culture of eco-tourism". The students from China who study in VSUES deserved special attention with their reports on themes "Spring holidays in Russia and China" and "Eating habits in Russia and China". Students from Korea also presented their reports on the themes "Beauty-tourism" and "Modern Silk Road".
After the video conference, VSUES faculty received a message from the Hallym University:
«Dear Ms. Irina Kiseleva!
Thank you for your letter and invitation to international student conference.
Our student said that they were happy and satisfied.
I hope the conference will be continued too.
Thank you and I wish you good.
Best Regards»