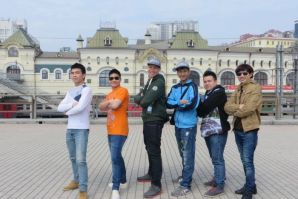 Preparatory Department for international students awarded certificates to the first graduates. They were 12 students from Laos and 1 citizen from Bulgaria. Group of students arrived from Laos to Vladivostok 8 months ago within the Russian Federation scholarship for international students.
On the graduation ceremony, the Head of the Department of Russian language Yuliya Konovalova noted how much effort the students made to learn that difficult language. When they first arrived to Vladivostok they couldn't speak Russian, but now they can read, write and communicate quite well. It is honor for me to notice that it was VSUES to provide such a perspective for them.
Russian Language teachers of VSUES tend to involve students in cultural activities and university events, give information about our country. It is the best and most effective way to learn Russian language. During the program students from Laos and Bulgaria together with their advisor-teacher Tatiana Kovaleva visited a tall-ship "Nadezhda", Vladivostok museums, went on city and region tours.
A group of Russian students majoring in "Intercultural Communication" helped international students during several joint events. Teacher Svetlana Karyakina taught them how to play the wooden spoons and folk percussion instruments. Lao students won the annual festival of national cultures Vlad Dance City award, performed their national dance.
Nine of the graduates of Preparatory Department are planning to become students of VSUES. Now students want to spend summer vocations at home, and some will work as a translator in the children\\'s center "Ocean", where children from Laos come to spend summer days in Russia.