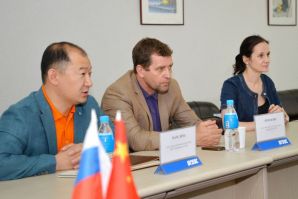 The meeting between VSUES Vice-President for academic affairs Oksana Martynenko and the Head of DOU International Affairs Department Gao Wei was held in Vladivostok State University of Economics and Service on the 3rd of July.
VSUES and DOU have already have the Agreement on Cooperation in the field of preparing Russian students in Marine Economics and Marketing with a possibility of getting dual diplomas of both Russian and Chinese parts. During the meeting, the representatives of the universities discussed the questions of developing their cooperation by the possibility for Russian students to take part in Dalian Ocean University's summer school, which is aimed at studying Chinese language.
As a result, the universities have agreed that DOU will provide VSUES students with reduced price on educational program and accommodation. In addition, the scholarship of students will increase. VSUES students might have a discount in DOU Chinese language summer school.
After the meeting, Gao Wei met with the students who are interested in studying in Dalian Ocean University and will go there due to the dual diploma program's educational course. Students watched a film about the Chinese university and the city of Dalian and asked many questions about the Chinese lifestyle, culture and customs and students life.