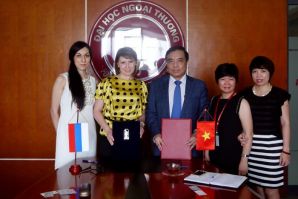 The Head of International Academic Mobility Office Aleksandra P. Piginesheva told about the Agreement during the business trip to the University of Foreign Trade in Vietnam city of Hanoi. While the visit the Vice-President of VSUES for scientific and international affairs Tatyana V. Terenteva met with the President of UTF Bui Anh Tuan, the Deputy Head of Scientific Department Do Huong Lan and the Head of International Department Vu Hoang Nam.
For the last two years, VSUES and Foreign Trade University of Hanoi have been connecting by scientific cooperation. After signing the Agreement on Cooperation in the field of student exchanges, we are waiting Vietnamese students for the spring semester to study Russian language. Afterwards the universities are planning to develop other forms of cooperation such as programs of dual diplomas for Bachelors and Masters and advanced trainings for faculty.
For prospective students:
The University of Foreign Trade of Hanoi offers programs for BA and MA in such spheres as:
Economics (International Economics, Foreign Trade) – BA
International business administration (International Business, International Business Law) – BA
International Finance – BA
Business English, Chinese, Japanese, French – BA
International Economics, International Economic Relations – MA
Foreign Trade – MA
Business Administration – MA
International Business Law (in French) – MA
Project Management (in French) – MA
International Business (in English) – MA
International Economic and international economic relations – Ph.D.
Student exchange programs
Business Education (in English) for 2-4 weeks
Summer Schools (English language, Viet Nam economics and its integration in regional and world economic, business in Viet Nam, Viet Nam culture)