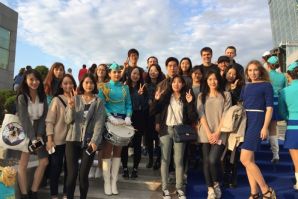 New students arrived this week to VSUES to apply for different educational programs: master degree, bachelor degree, Russian language and Russian Far East course. This year diversity of countries is represented by China, Republic of Korea, North Korea, Japan, USA, Vietnam, Laos, Germany, French Polynesia, Nigeria, Indonesia, Philippines, Uzbekistan, and Tajikistan. Representatives of different countries, cultures and religions are united by one idea – to get education in Russia and learn Russian language.
International and Cultural Affairs Department staff members were guiding the students during their first week devoted to the orientation activities. After the arrival students are supposed to be really busy: they get acquainted with the university campus, surrounding area, city center, take a Russian language test and meet teachers, get a medical certificate and insurance, learn about migration policy in the Russian Federation.
Nelli Hammer, Germany:
– I was really impressed by Vladivostok\'s wide and beautiful landscape. In particular I loved the scenery with the endless view over the sea, bays and huge bridges. What I won\'t forget is how warmheartedly I was welcomed here in VSUES. I immediately felt well accepted, safe and secure. In the shortest amount of time I\'ve already met so many helpful, guest friendly and interesting people. That is why I am sure that I will easily get used to life here and that I won\'t regret coming to the Far East.
Russian students of VSUES very really helpful during the orientation week. Working with foreign students is not just a language practice for them, but also a good chance for intercultural communication and an opportunity to make friends from overseas.
Veronika Rubanova, sophomore, International Relations major:
– I got so many nice impressions from working with international students. My goal was to show the university and the city to Korean exchange students. In the very beginning I knew it would not be that easy because of the language barrier. But after a while we were on common ground. We helped Koreans to get adjusted to Russian language and even learnt some Korean words from them.
During the first week in Vladivostok new international students walked around the city center, sea-front pedestrian street, enjoyed its night view, spent a sunny day at Tokarevsky Lighthouse point and visited the opening ceremony of Pacific Meridian Film Festival.
Long academic year students will spend not only in classrooms but also they will be involved in cultural and excursion activities so that they will know more about Russian culture and traditions, history of the Russian Far East and its beauties.
Jonathan Rainey, USA:
– In under a week, Vladivostok and the VSUES has already made me very excited about studying here. Students and staff at the university have been excellent at helping me get settled in and guiding me around the city. The European style of architecture found in Vladivostok might lead one to believe that they are in a Western city, but the diversity of Asian cultures found in the student body at VSUES is an easy reminder that Vladivostok is still on the Pacific Rim. Though the city is spread out, it retains a close-knit feel. People on the street are happy to give directions and advice. I am looking forward to what the coming year will offer!