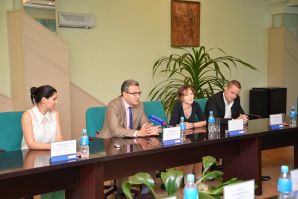 First VSUES Youth Forum "Strategy. Leadership. Perspective – 2015" took place in VSUES September 17-20, 2015.
By VSUES administration's invitation French delegation leading by Aymeric Chauprade, member of the European Parliament, geopolitics, and Pierre Malinowski, historian, and regional ethnographer arrived in Vladivostok to participate in the Forum events.
French delegation had a meeting with VSUES President Gennady Lazarev and professors in geopolitics and world economics participating in upcoming conference. Aymeric Chauprade talked about the place of today's Russia and France position in a multipolar world where the political and economic interests are shifting towards the Asia-Pacific region and marked favorable geopolitical position of Vladivostok.
September 18 Aymeric Chauprade participated in opening ceremony of the First VSUES Youth Forum "Strategy. Leadership. Perspective – 2015". The honored guest greeted freshmen and emphasized the role of VSUES in their future life:
I am so delighted today to be with you here in this beautiful concert hall in such a modern university. You are the happiest students in the world, because you are studying in a university in Vladivostok – the city that is a window to Asia, and I hope you realize how lucky you are.
The new world that is being built and opened - a multi-polar world, where each state has its sovereign position, where each nation retains its identity, and Vladivostok in the world takes a special position because it belongs at the same time to European culture and to Asian. I really believe in development, the potential of this city, which is really huge.
As a MEP, and a patriot of France, I will continue to fight for strengthening of the relations between the Russian Federation and the European Union. For me, Russia - is a great power, country, which is surrounded by three oceans, the country that has a great future!
I wish you the school year, full of success and achievement, and I hope to see you here in this city!
September 19 Aymeric Chauprade and Pierre Malinowski took part in the scientific-practical conference "Russia: the risks and challenges of a multipolar world", in memory of Professor, Doctor of Political Sciences Mikhail Yurevich Shinkovsky. French colleagues presented reports - Aymeric Chauprade - "The role and place of the French-Russian relations at the present position of development of cross-folk relations" and Pierre Malinowski - "Russian expeditionary force in France in 1917". Pierre Malinowski presented museum and exhibition complex VSUES with exhibits (personal belongings of Russian expeditionary corps soldiers, participants fighting for France in the First World War) found him in France during the excavations.
Moreover, during the visit in Vladivostok French delegation had meetings with Vladivostok and Primorsky Krai administration, where Aymeric Chauprade announced his intention to establish relationship between the authorities of Primorye and Vladivostok and the Institute of multi-polar world.