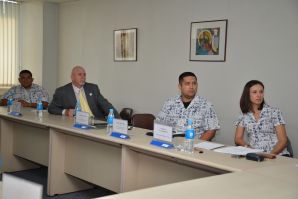 International and Cultural Affairs Department staff members had a meeting with the delegation of representatives of the University of Guam and Guam Visitors Bureau: Director of the University of Guam Carlos R. Taitano, marketing officer Haven Torres and Mark Manglona, chairman of the board of the Guam Visitors Bureau in Russia and new markets Bartley Jackson, representatives of Guam Visitors Bureau in Vladivostok.
Foreign guests and their colleagues visited VSUES to know more about the university, to present the University of Guam with its degree and non-degree programs. Carlos R. Taitano announced that the language of instruction is English, programs are focused on foreign students and include cultural activities such as workshops on art and cooking, hand made, entertainment trips, etc.
Representatives from VSUES in turn introduced to their colleagues variety of undergraduate and graduate programs in English and Chinese for foreign students who are studying at our university: language programs (including summer schools), the Russian Far East course, programs in economics, management, design, etc.
Both sides expressed their mutual interest in collaboration and development of partnership between our organizations and countries.