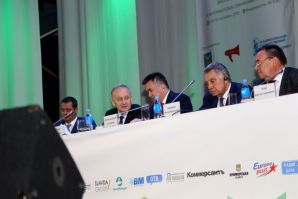 The IX International Ecological Forum was opened in VSUES on October 29, 2015. The aim of the forum is to discuss the urgent issues of environmental protection in the conditions of rapid social and economic development of the Russian Far East such as people and environment, natural areas of preferential protection, marine ecological safety and international ecological cooperation.
The Administration of Primorsky region, VSUES and Russian Information Agency "PrimaMedia" became the organizers of the forum. The presidium members of the Forum, Governor of the Primorsky region Vladimir V. Miklushevsky, President of VSUES Gennadiy I. Lazarev, the chairman of scientific-research association "Ecology and Future" Mr. Jong Tae-Soo from Busan State University in Republic of Korea, said their greeting words on the open ceremony of the plenary session. The Professor of VSUES High School of TV Andrey Kalachinsky presented as the moderator of the Forum.
The Governor of the Primorsky region said that the region plays a role of one of the leading social economic centers of the Asian Pacific Region, which has an advantageous geographical location, unique climate conditions and rich natural resources. In addition, he noted the role of effective management with the use of modern Eco technology especially in case of Vladivostok free port development.
All speakers, who were the representatives of different special fields, agreed that in case of modern transboundary world is very important to solve all ecological problems together.