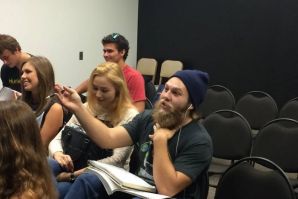 Russian and foreign students of VSUES met with their counterparts from Hawaii University with the help of video conference, which was organized by VSUES School of Foreign Languages. The Head of Russian language department in Hawaii University Anastasiia Kostetskaya was presented as the leader of the American part and The Head of School of Foreign Languages of VSUES Yulia Konovalova, who takes part in exchange program between the universities during this academic semester, presented both: Americans and Russians.
As Yulia Konovalova explained the aim of the event, some students are going to Russia especially to Vladivostok for studying and are interested in studying conditions in the university; others just want to talk to native Russian speakers. Students asked some useful questions such as possibility of use plastic card in the city, how can one travel during the studies, how many lessons do students have every day and what do they usually do during their free time. Foreign students of VSUES from Taiwan, Germany and Indonesia told their counterparts about Vladivostok and noted how beautiful the autumn in the city is.
Russian students asked Americans why they chose Russian language. It turned over that students from the USA are interested in Russian culture and country in whole and some of them even have ancestors from Russia.
In the end of the conference, Russian students invited Americans to Vladivostok to study language. Both parts are looking forward to have one more video conference and students from Hawaii University at Manoa are already preparing a presentation of their city and university to introduce it to Russians.