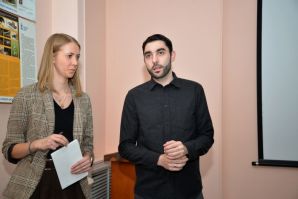 French artist Brice Mare gave his lecture to VSUES students. The visit of Brice Mare to VSUES got possible because of the strong cooperation between the university and French cultural center "Alliance Française Vladivostok".
Brice Mare gave a lecture on the theme "Inter-prefix in contemporary art and architecture" in which he is a true professional. During the lesson, the artist told about his works, realized projects and technics that he usually use. His philosophic points of view helps him to balance the harmony between very different styles and texture, which he use in the same project. Brice Mare turn all simple sketches in abstract compositions. It is interesting, that his installations contain small details of surrounding us in everyday life architecture and adding some light and optical effects he turns something customary in something specific. Brice Mare use various kinds of material in his works like wood, metal or even stones.
In the end of the lesson, Brice Mare wished students to follow their dreams in order to reach their goals, not being afraid to make something wrong, even if the project seems to be fantastic. As he said, the most important step is the first step.