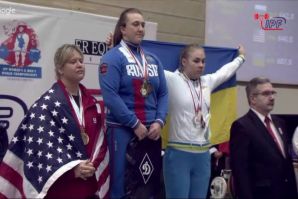 Valeriia Timoshchuk won the first prize on the Powerlifting World Championship that was hold in Luxemburg. In the weight category up to 84 kilos with the triathlon total result of 642,5 kilos she was in advance of her nearest opponent from the USA in 2 kilos. Overall, about 205 athletes from 30 countries took part in the World Championship.
This gold medal became her first in the World Championships. On the Powerlifting World Championship held in November 2014 in the USA Valeriia became the second with a silver medal. Valeriia Timoshchuk is Master of Sports of International Class, champion of the Russian Far East in powerlifting with and without the outfit, multiple champion of Russia and Europe among the juniors and senior category.
We all are proud of Valeriia's great result and congratulate her with this well-deserved honour!