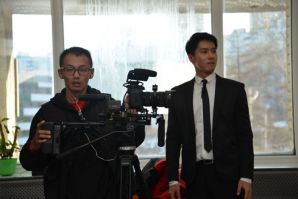 Delegation from "Asia Travel Chanel" visited university in November 24. The production team came to Vladivostok to make an episode of TV show about the restaurant business of the city. The TV show will also tell spectators about the trainings which students take while studying in the School of Tourism of VSUES.
The program of guests' visit to VSUES made the whole day busy. Therefore, the TV delegation visited university exhibition center and took part in a small fashion show specially prepared by students of the School of Design. Guests were presented several student's collections made in traditional Russian and conceptual Russian style. Afterwards they moved to the fashion design practical class, where the host got the possibility to help young designers in making their new collections.
While the visit to the School of Tourism the host was offered to act as a hotel customer while the practice oriented game "Customer service at the hotel front desk". Then the host Anson Hong tried himself in the restaurant table serving art. In the very end of the day, the TV cast was taken to the restaurant of the Pacific International Hotel Management School, where the most famous Chef in the Russian Far East Petr Baev gave a lesson of cooking traditional Russian pancakes with sweet caviar imitation with the coffee taste.
After the long shooting day, guests shared their impressions of the visit:
- I'm really impressed by all those facilities and opportunities, that VSUES students have. Students know what they want to do and try to reach their goals. I suppose it is the best university I've ever being to, - told the member of the TV cast, Ivan Liu.
Film about the university will be on the "Asia Travel Chanel" from February 2016, and everybody will have an opportunity to see it also on the YouTube.