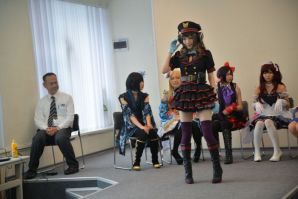 The group of famous representatives of Japanese pop-culture visited VSUES due to the Japan Russia Youth Exchange Program. While the "Meeting with the cosplay culture" students got some information about the history of formation of the movement and asked all interested them questions.
Each participant of the cosplay cast has her own nickname. Itsuki Akira, Kisaki Urumi, Kuroneko, Koyomi, Usagi and Kamisaka have more than 50 thousand followers in Twitter. For meeting with the students, girls chose the costumes of characters of such famous anime as "Love Live", "Idolmaster", "Sailor Moon" and presented costumes in Japanese Lolita style.
As the Head of the group Mr. Hondo Hidekazu said, his cosplay cast often goes abroad, but it was their first time in Russia.
Girls say, after putting on a costume, they really feel themselves like an anime or computer game character and they practically have another lives. There are many shops in Japan, where you can find costumes and accessory of characters of the popular anime, manga, comics and computer games but the girls are very famous in their motherland so they bespeak their costumes. Each of them has more than 100 costumes in her collection already. It is told that it takes about 2 hours to make one image.
In the end of the meeting, guests made a small fashion show and presented their characters in the best way. Mr. Hondo Hidekazu thanked Consulate General of Japan for that interesting event and the opportunity to meet with the students.