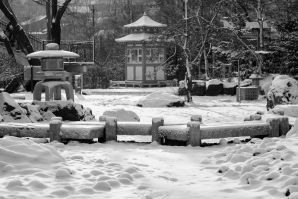 New exhibition of works by Russian and foreign students and students is presented in the hall of International and Cultural Affairs Department of VSUES. One can see the photography works with autumn representation, as well as calligraphy works, executed in the eastern traditional manner, and essays of exhibition participants about their works in Russian language. In addition, exhibition presents works of Japanese students from Niigata, who studied in VSUES during autumn semester 2015.
Vladimir Yanfa, exhibition coordinator:
Students and pupils, attending special classes, have the opportunity to study the Oriental Arts. The current exhibition is particularly attractive because of the works of photographers, highly appreciated by representatives from Japan. These works will be included in a book about the Morimoto Garden. Our photographers have good motivation to prepare for next season exhibitions - winter and spring – the object for their cameras, the picturesque Japanese garden of stones in the snow, is located on the campus of the University. Photography works are presented by three categories: "Plot", "Landscape", "Macro". We welcome people to participate in the next stages of seasonal exhibitions!
Morimoto Garden named after the first chairman of the Society of Friendship "Toyama - Vladivostok" was built in 2001 with the Society investment and Mr. Morimoto with the help of efforts of Toyama Prefecture gardeners association and support of Toyama Prefecture. Author of the project - the master of the Japanese garden art, professor Mr. Kugo Shinji. Garden Category: KareSanSui - dry garden landscape. A characteristic feature of the landscape of these gardens is shaped transfer of bodies of water - a lake, a stream, a waterfall - by arranging of the stones.
In 2013, a landscape Morimoto Garden object is recognized as one of the 10 spots of the Primorsky Territory, and included in the list of a tourist route. Morimoto Garden is one of the three objects of the Japanese landscape gardening art represented in the territory VSUES: Sakura alley, friendship flowerbed, Morimoto Garden. With the efforts of the Chairman of the Society " Toyama - Vladivostok", the VSUES President Gennady Lazarev, Morimoto Garden is regularly renovated to preserve its pristine and "purity of intention" of the authors from Japan.