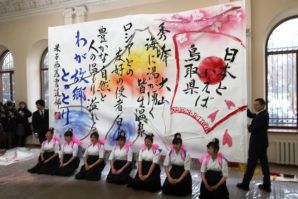 Vladivostok hosted the 6th Days of Tottori prefecture culture from February 29 to March 6, 2016. Japanese Tottori prefecture and Primorsky region celebrate their 25th anniversary of cooperation in 2016, so the program of the event was concentrated on presentation of people's relations, culture and traditions.
Started on the February 29 some events were held in VSUES, but the main ones took part on the March 5-6. The Opening Ceremony of Days of Tottori culture was in "Vladivostok Hermitage" on March 5 and welcomed honored representatives of Administration of Primorsky region, Consulate General of Japan in Vladivostok and guests from VSUES.
Students from the calligraphy club of Japanese high school "Yonago Nishi" came to Vladivostok with their teacher just in order to take part in the event. Children created a colorful panel picture symbolized friendship between Russia and Japan right in front of excited guests.
VSUES students of "International relations" major also gave an interesting lesson of Russian calligraphy to the Japanese guests. They showed how to write letters of Russian alphabet and asked some questions, connected with the Russian culture and traditions. In the entertainment part of the meeting, students sang songs in Russian and Japanese, danced and showed some humorous sketches.
On March 5-6 were held master-classes in traditional Japanese cuisine in the International Institute of Tourism and Hospitality, where best chefs from Tottori prefecture explained how to cook ramen, soba, udon and okonomiyaki.
As one of the participants of the master-class, Galina Sobeinikova, noticed:
Japanese cuisine is getting its popularity from year to year. Some time ago, people were able to taste it just in Japanese restaurants cause of the lack of rare ingredients, but now it is possible to cook even at home.