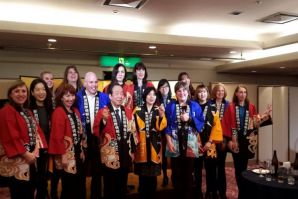 VSUES representatives came back from the business trip to Niigata University of International and Information Studies on March 2, 2016. Since 2014, VSUES and the Japanese university rapidly develop cooperation between each other and hold students educational programs, due to which about 24 Japanese students have already finished their education in Russia.
Representatives from Korean and American universities, which also have cooperation with Niigata University of International and Information Studies, also gave their visit to the partner university as well as the Russian delegation.
During the visit, students from each country made a presentation of their home universities. The 2nd year student of "International relations" educational program and the member of "VSUES International Club" Veronika Rubanova presented VSUES. She noticed:
- I felt very comfortable and warmly welcomed in NUIS. Students from different countries communicated a lot with each other and it was very pleasant to see their interest in our university. We spent a lot of time with NUIS students, when they came for study to Vladivostok helping them not just to solve some everyday problems, but also to get know and understand Russian culture and I was very happy to meet all of them in Japan again.
As the delegates said, one of the most memorable moments of the visit was dinner in the NUIS President's residence, where Russian students sang "Katyusha" song together with their Japanese friends.
Students of Niigata University of International and Information Studies were waiting for this visit for long time and prepared for it careful. Students talked a lot about their experience in Vladivostok and said they would like to come to VSUES again one day.