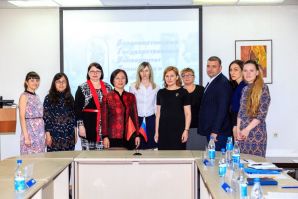 Representatives of Mudanjiang Normal University with the Head of International Education and Cooperation Department Mrs. Jiang Xumei visited VSUES on March 23.
Mudanjiang Normal University is being one of the most long-standing partners of VSUES and the leading university in the South Eastern part of Heilongjiang province in China. The Ministry of Education of China awarded Mudanjiang Normal University with the rank of the "One of the best Chinese universities due to the educational level" in 2009. Nowadays MPU has 18 institutions and 52 schools, such as science and technology, agriculture, literature, education, economics, management, art, natural sciences.
Since 2013, VSUES and MPU has being operating the students exchange program. In addition, Mudanjiang Normal University every year offer the possibility to get the Government scholarship for Master degree for two VSUES students.
While the visit, delegation of MPU had a campus tour, meeting with the Rector of Vladivostok State University of Economics and Service and discussions on current issues with the representatives of School of Economics and Management, School of International Business and Finance, School of Design and School of Tourism and Hospitality.
Delegation from Vladivostok State University of Economics and Service is planning to give a return-call visit to MPU in April 2016.