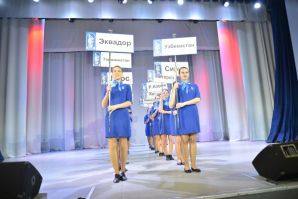 International interuniversity festival "I study in Russia" took place in Vladivostok State University of Economics and Service on April 4-5, 2016. Organizer of the festival was Institute of Foreign Languages of VSUES. More than 125 participants from 16 countries such as Vietnam, Israel, People's Democratic Republic of Korea, Congo, Laos, Germany, Ecuador, Uzbekistan, Syria, Nigeria, Republic of Korea, USA, China, Indonesia and Tajikistan took part in the festival in different contests to show their talents and to share their culture and traditions.
Students had the possibility to take part in different nominations as literature, cooking, choreography, playing the musical instruments and singing.
From 10am on April 4 in the Underground concert hall were opened workshops, where all students could make a photo and give a master class in traditional handicraft arts before the opening ceremony of the festival. Rector of VSUES Tatyana V. Terenteva gave a welcome speech and greeted all the participants wishing them good luck.
The first day of the festival hosted literature, choreography and musical contests, where students showed the jury not just their traditional art, but also songs and poems in Russian language. So, student from Indonesia read a poem in Russian language about his love and devotion to Russia and Vladivostok which he composed by himself.
On the second day of the festival on April 5, all guests were able to taste dishes from all over the world that were made by the participants of cooking contest. That was the last competition of the festival after which everybody were invited to the Closing ceremony and gala concert, where the winners got their memorable prizes.