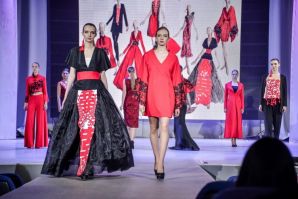 XXIII International Young Designer Contest "Pygmalion" is supposed to be the brightest event within «Pacific style week-2016».
This year participants came from Novosibirsk, Krasnoyarsk, Blagoveschensk, Khabarovsk, Birobidzhan, Ussuriisk and Vladivostok as well as Chinese, Japanese and South Korean young designers presented their collections.
The Contest was presented by nominations "Debut", "Junior fashion", "Prêt-à-porter", "Evening fashion", "Performance" and by "Professionals" where the graduates of VSUES School of design and the owners of established brands showed their collections.
Non-competitive collections were performed by Russian designers and designers from APR: collection from Sungshin Women's University, Republic of Korea (supervisor of the collection - Misun Yum), Irina Akulina, Vladivostok, Viktoria Kirichenko, Vladivostok, Yang Hua, China and others.
Young designers' collections performed the following concepts: sea style, using of Russian traditional elements, cultural context, individual style and self-expression, comfortable clothes and street style, transgender tendency and ideas of equality.
Among the members of the Honorable Jury were internationally recognized professionals:
- Viktor Kuzmichev, Doctor of Science, Professor of Ivanovo Textile Institute (Russian Federation), Wuhan Textile University (China), University of Upper Alsace (France)
- Ichiro Tsuchida, Vice-rector of Niigata New World Institute of Total Fashion (Japan)
- Hua Yang, Associate professor, Shaanxi Polytechnic Institute (China)
- Irina Karimova, the head of internet-portal FashionEducation.ru, fashion journalist, a lecturer in British fashion school (Moscow, Russian Federation)
- Misun Yum, designer, associate professor of Sungshin Women's University (Republic of Korea), participant of the Pacific Style Week 2014 and 2015
- Sandra Meynier Kang, designer, owner of SMK brand (Republic of Korea)
- Katerina Evmenieva, creative director and owner of SUCCUB brand (Russian Federation), participant of fashion-trade show MiPap within Milan Fashion Week.
The winners of the contest from different nominations were awarded with the certificates from the Public Jury, gifts from sponsors and got the opportunity to present their collections at "Russian silhouette" contest (Moscow), Zhengzhou International Culture Fashion Week (China) and Daegu International Fashion Culture Festival (Republic of Korea).