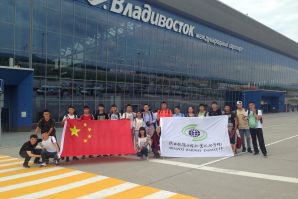 The opening ceremony of international "Design summer school – 2016 "Ethnic inspiration"" took place on June 27 to welcome all the participants: students from China (Shaanxi Railway Institute) and South Korea (Silla University and Sungshin Univerity). The project was initiated by School of Service, Fashion and Design of VSUES inspired by the ideas of promoting Russian Far East heritage and modern Russian design tendencies.
Inna Klochko, the Head of School of Service, Fashion and Design:
Participants of the school will have many interesting bright activities. During two weeks, they will be immersed in the creative atmosphere. This summer school is devoted to the Russian traditions and using ethnic elements in modern design.
Olga Danilova, instructor of the school:
Participants of the school will study Russian culture, culture of the Russian Far East minorities, stylization of objects; they will work with clay and non-traditional materials. They will examine museum items, will learn felt accessory, screen printing on a t-shirt.
During the ceremony, participants of the school could enjoy the showcase of the collections from the fashion school Pygmalion.
We wish all the participants of the school bright impressions, creative ideas, artistic skills that they could use in future career!