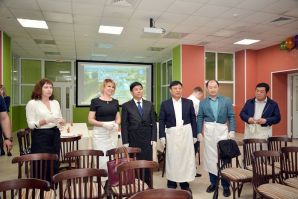 The delegation from Mudanjiang Normal University headed by the rector, Mr. Sun Xianmin made a two-day working visit to Vladivostok State University of Economics and Service.
After the official part of the visit, VSUES rector Tatiana Terentyeva invited the guests to the cooking master-class organized by International Institute of Tourism and Hospitality. The master-chef Alexander Borovikov personally guided Chinese delegation to discover some cooking secrets of ethnic Russian foods as borsch, boeuf Stroganov and pancakes (blinis).
As it happened, Mr. Sun Xianmin was great on the culinary art and was pleased to cook a family dinner after busy working day.
"Such cross-cultural activities are fantastic and bring us to be on the same wavelength. So far, we all have implemented some useful joint education programs, scientific and cultural projects. We also do hope for extending cooperation with our partner university in these fields," noticed Tatiana Terenteva.