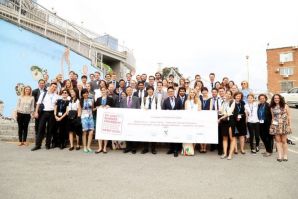 The opening ceremony of the 20th Asia-Europe Foundation Summer University (ASEFSU20) was held at the Vladivostok State University of Economics and Service (VSUES). The promising students and young professionals from 45 countries participated in ASEFSU20.
The major goal of ASEFSU20 is to provide a positive space that fosters intercultural dialogue on a broad range of issues, foster strong personal contacts and a sustainable network among well-educated students all over the world.
Tatyana V. Terentieva, VSUES rector noticed that VSUES prepared a fruitful program for all the ASEF participants: "We are very excited to be a part of ASEFSU20 and host the participants in Vladivostok. ASEF is a highly respected international organization with solid experience in the implementation of international projects all over the world. In this regard, working together on the project is a great opportunity for us to collaborate with a team of professionals and to strengthen the bridge between Asia and Europe."
Igor N. Ganshin, the representative of the Ministry of Education and Science of the Russian Federation congratulated the participants on the ASEFSU20 opening ceremony. He expressed confidence that it was great opportunity for young leaders to collaborate and apply their skills to promote academic discourse and intercultural exchanges.