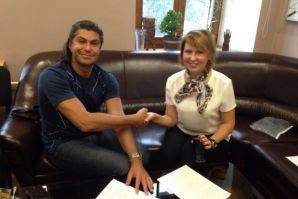 Tatiana V. Terentyeva, VSUES rector and Nikolai M. Tsiskaridze, the principal of the Vaganova Ballet Academy executed an agreement on a joint educational program "The art of ballet". The legendary Academy solemnly opened the first branch in VSUES on September 1, 2016. Twelve talented children from all over Primorski Krai chosen personally by Nikolai M. Tsiskaridze began their ballet education at the Academy branch in VSUES.
The welcoming ceremony included such the honorary guests as the President of VSUES Gennady I. Lazarev, the Governor of Primorsky Krai Vladimir V. Miklushevsky and Minister of Culture of the Russian Federation Vladimir R. Medinsky. All they wished our ballet students continued success, artistic inspiration and the opportunity to unlock their creativity.
Nikolai M. Tsiskaridze promised that our young talents would get the chance to perform at the Primorsky Stage of the Mariinsky Theatre as early as the end of September.