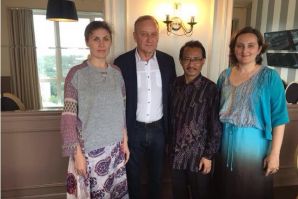 September 4, Indonesian Ambassador Mr. Wahid Supriyadi made a visit to Vladivostok State University of Economics and Service (VSUES). Mr. Ambassador was offered a campus tour and had a meeting with the president of VSUES Gennady Lazarev.
Indonesian universities are interested in extension of contacts with VSUES in the field of tourism and design. Since Indonesia is the world's largest island country, VSUES program in shipbuilding can be appealing to Indonesians. Mr. Wahid Supriyadi invited VSUES to participate in the educational exhibition, which will be held in October in Jakarta.
The Ambassador noted that Indonesians have great interest in studying abroad. He admitted that Indonesian students should get more information about Russia as well as its educational programs offered by Russian universities. University of Technology in Surabaya can become a new VSUES partner soon.