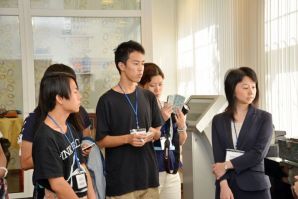 VSUES ran a short-term cultural program for the Japanese exchange students from Tottori University of Environmental Studies on September 18 – 22, 2016.
"We are very pleased to see you here and prepared such an eventful and interesting program with the various excursions, workshops and master classes. We do hope your language and cultural immersion would go off without a hitch! We wish you to make new friends, get many vivid impressions and positive emotions!"- greeted the guests Aleksandra P. Piginesheva, the Head of the International Academic Mobility Office.
During their stay, the Japanese students could see the city museums, the Butterfly House "Vostorg", partook in Vladivostok sightseeing guided tour as well as in a boat tour to Russky Island. Eventful program activities included Russian calligraphy classes, mini archeological excavation "Youth archaeologist", two folk workshops "Pryaniki & Valenki" and traditional music and dance performance. The highly topical cultural program provided maximum opportunities for Japanese students to soak themselves in Russian history, culture and traditions.