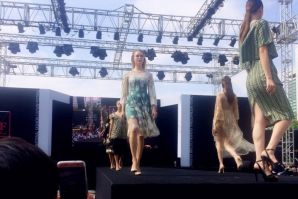 Early October VSUES delegates participated in the grand fashion event "Daegu International Fashion Culture Week-2016" (Daegu, South Korea).
Victoria Matina, VSUES graduate student in "Design and Technology" honorably represented our university with her dress-collection "Azerbaijan. The most authentic of the non-existent" at the Korean Fashion Week. Among the Korean models walking the runways were our students from the Fashion Theatre "Pygmalion", and the choreographer Marina Chulanova helped them to prepare for the runway show.
For the first time the models of our Fashion Theater participated in such a great event outside Russia. VSUES models and designers were highly appraised by organizers of the Fashion Weeks in China and Korea. Inna Klochko, the director of School of Service, Fashion and Design noticed that International and Cultural Affairs Department did much to nurture relationships with the foreign partners and as a result, her students were able to participate in such great international events and performances.