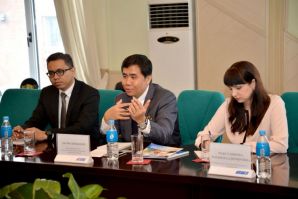 VSUES is willing to extend its cooperation with the universities of Indonesia, the world's fourth most populous country. The Indonesian delegation to VSUES were Mr. Lasro Simbolon, Minister, Deputy Chief of Mission Indonesian Embassy in Moscow; Mr. Heryono Hadi Prasetyo, Trade Attache of Trade Mission of Indonesian Embassy in Moscow; Mr. Danang Ary Wibowo, Third Secretary of Economic Division of Indonesian Embassy in Moscow and Mrs. Maria Maksudinova, Honorary Consul of Indonesia in Vladivostok.
Today, Russia and Indonesia share the view that international cooperation in education is an important pillar for domestic development and prosperity. Our university is looking forward to elaboration and implementation of joint educational programs. We are glad to have Indonesian students in our university, said the Rector of VSUES Tatiana V. Terentyeva.
Mr. Lasro Simbolon expressed his readiness in cooperation and highlighted the importance of student's academic exchanges. He believes that education in Russia is the most valuable investment for Indonesian student's future.
The bilateral agreements between VSUES and the leading Indonesian universities will be prepared in the nearest future.